Probiodrug to present at the International Conference on Brain Disorders and Therapeutics in London, UK
Probiodrug Licenses the TBA 2.1 Transgenic Alzheimer's Disease Mouse Model to QPS Austria Neuropharmacology
HALLE/SAALE, Germany, 27 August 2015 – Probiodrug AG (Euronext Amsterdam: PBD), a biopharmaceutical company developing novel therapeutic solutions to treat Alzheimer's disease (AD), today announced its financial results for the first six months ending 30 June 2015, prepared in accordance with German GAAP ("HGB") and, on a voluntary basis, in accordance with IFRS as endorsed by the European Union. The reports are available on the company website (https://www.vivoryon.com/investors/reports-and-presentations/).
KEY HIGHLIGHTS
Phase 2a study of novel treatment for Alzheimer's disease, the SAPHIR trial, initiated
Additional data on Glutaminyl Cyclases (QCs) in Alzheimer's disease published in Acta Neuropathologica
Data on Probiodrug's Anti-pGlu-3 Abeta monoclonal antibody presented at the 12th AD/PDTM 2015, Nice
Key patents on Glutaminyl Cyclase (QC) inhibition for the treatment of AD granted in Japan
Winner of the European Mediscience Awards 2015 for Best Technology
Funding of Alzheimer's research at Brigham and Women's Hospital, affiliated with Harvard Medical School
Cash and cash equivalents of EUR 14.8 million as of 30 June 2015
Net loss of EUR 6.2 million for the first six-month period compared with EUR 3.4 million in 2014 in line with company expectations
Annual General Meeting held in June, all resolutions proposed by Management and Supervisory Board approved
New members of the Supervisory Board with distinguished industry expertise appointed
POST PERIOD HIGHLIGHTS
There were no significant events subsequent to the reporting period.
CONFERENCE CALL
Probiodrug will host a conference call open to the public today at 15:00 Central European Time (CET); the presentation will also be posted to the website. The conference will be held in English. To participate in the conference call, please call one of the following numbers ten minutes prior to commencement:
Please dial one of the following access numbers,
then enter your PIN Code: 88903011#
A Question and Answer session will follow the presentation of results.
Dial in coordinates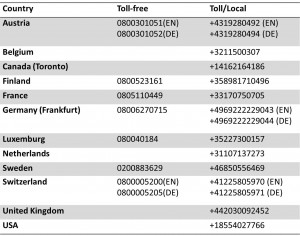 Commenting on the results, Dr Konrad Glund, Chief Executive Officer of Probiodrug said:
"In the first half of 2015 Probiodrug accomplished two important milestones within its pipeline programs. Firstly, commencing the SAPHIR, Phase 2a study with the QC inhibitor PQ912 in early AD patients, and secondly, ramping up Chemistry, Manufacturing and Control (CMC) development for the pGlu Abeta specific antibody PBD-C06, after selection of an IgG variant as development candidate. Additionally, Probiodrug is currently focused on evaluating and designing next steps in the clinical development of PQ912, including a longer term treatment to begin in 2016. Regarding the antibody program, additional preclinical data have further substantiated the attractiveness of this concept. This was also corroborated by data presented by Eli Lilly at the AAIC conference held in Washington in July for its pGlu-Abeta specific antibody focusing on the additive effect of lowering plaque burden if combined with a BACE inhibitor. In the last few months, Probiodrug has started several collaborations to pre-clinically validate the effectiveness of QC as a target for other neurodegenerative diseases with unmet medical need. Further successes in corporate development include additional patent grants in key territories.
"After so many years of failures and high skepticism regarding the new therapeutic approaches and their probability of success, the Alzheimer's landscape is now characterized by new optimism triggered by recent results on medical candidates targeting Abeta. Stakeholders are increasingly positive, with new data presented at AAIC for Disease Modifiers as well as with new symptomatic treatments pointing towards a brighter future of new AD medications."
KEY FIGURES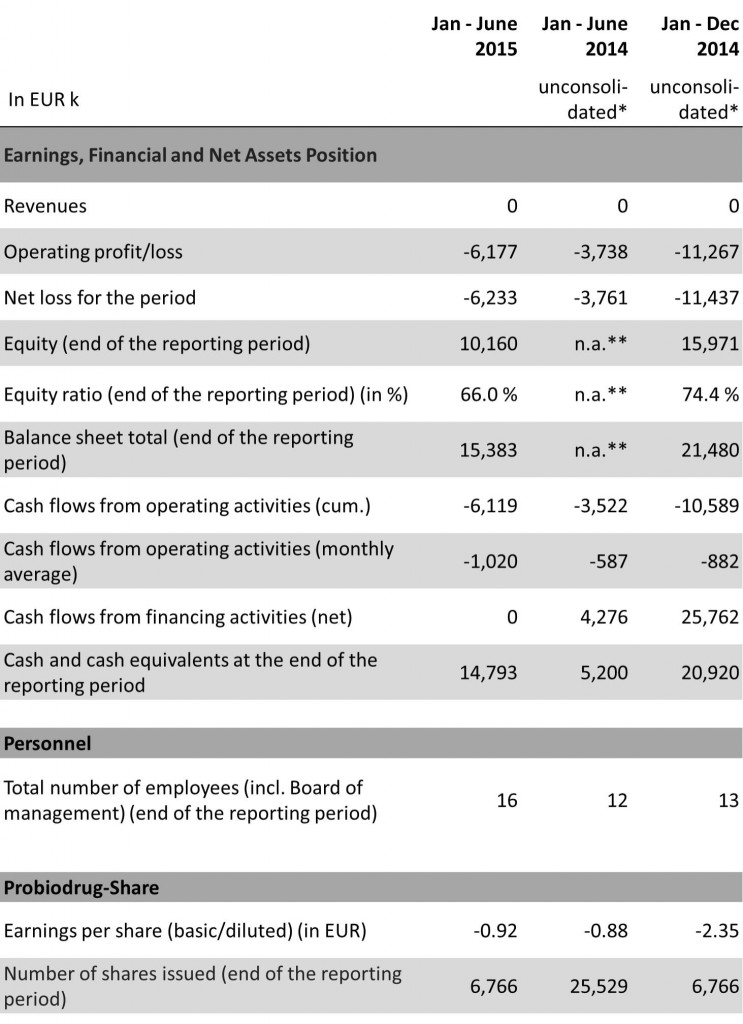 * While the semiannual financial statements 2014 where prepared on a consolidated basis, the semiannual financial statements 2015 were prepared on an unconsolidated basis, since the subsidiary Ingenium was sold in July 2014. For comparison reasons the 2014 semiannual financials are also shown in an unconsolidated manner, leaving out Ingenium.
** Acc. to IFRS not applicable
DETAILS OF THE FINANCIAL RESULTS (ACCORDING TO IFRS)
The comparison figures for the first six months 2015 shown below refer to the corresponding 2014 numbers.
Net loss
The net loss amounts to EUR 6,233k (Jan – June 2014: EUR 3,761k), thereof EUR 6,177k (Jan – June 2014: EUR 3,738k) are to be attributed to the operating loss and EUR 56k (Jan – June 2014: EUR 23k) to the financial loss, all in line with the expectations of Probiodrug. The operating loss is primarily driven by the research and development expenses amounting to EUR 4,511k (Jan – June 2014: EUR 2,820k) and to a lesser degree by the general and administrative expenses of EUR 1,872k (Jan – June 2014: EUR 961k). The increase in research and development expenses is mainly driven by the SAPHIR trial initiated in the first quarter, whereas the increase in operating expenses reflects primarily higher administrative costs and the expenditures due to the fulfilment of the post-listing requirements of Probiodrug.
Equity
As at 30 June 2015 the equity amounts to EUR 10,160k (as of 31 December 2014: EUR 15,971k), corresponding to an equity ratio of 66.0% (as of 31 December 2014: 74.4%).
Cash
Cash and cash equivalents were EUR 14,793k, compared with EUR 20,920k as at 31December 2014.
Noncurrent/ current liabilities
The noncurrent liabilities amount to EUR 928k (as of 31 December 2014: EUR 929k), consisting completely of the net commitment (defined benefit liability) of the pension commitments (defined benefit obligations) of EUR 928k (as of 31December 2014: EUR 929k). The current liabilities amount to EUR 4,295k (as of 31 December 2014: EUR 4,580k), consisting mainly of the tax liabilities of EUR 2,592k (as of 31 December 2014: EUR 2,543k), comprising the Company's payment obligations as a result of the tax audit for the period 2002 through 2005 including interest for late payment, and trade payables. In 2014 Probiodrug has filed a lawsuit at the financial court contesting the potential back taxes. A ruling has not yet been made. A stay of execution for the contested decisions has been granted. The trade payables amounted to EUR 1,016k (as of 31 December 2014: EUR 1,036k) resulting from of the ordinary course of business. They have a remaining term of up to one year.
OPERATIONAL REVIEW
Pipeline update
The development approaches of Probiodrug are targeting pyroglutamate-Abeta (pGlu-Abeta) as a therapeutic strategy to fight Alzheimer's disease. This modified Abeta is considered to be linked with disease initiation and progression by seeding the formation of soluble neurotoxic amyloid oligomers. Probiodrug is developing proprietary product candidates to target toxic pGlu-Abeta via two modes of action by (i) inhibiting the production of pGlu-Abeta; and (ii) clearing existing pGlu-Abeta from the brain.
Probiodrug's innovative approaches comprise the development of specific inhibitors for the enzyme Glutaminyl Cyclase (QC), which is instrumental in the creation of pGlu-Abeta. In addition, the company is developing a monoclonal antibody targeting pGlu-Abeta to enhance its clearance. To date, Probiodrug's pipeline consists of two small molecule inhibitors of the QC-enzyme, PQ912 and PQ1565, and a monoclonal antibody, PBD-C06, targeting pGlu-Abeta.
In the last few months, Probiodrug has initiated several collaborations to pre-clinically validate the effectiveness of QC as a target for other neurodegenerative diseases with high unmet medical need.
PQ912
In 2015, Probiodrug initiated and is running a Phase 2a study, the "SAPHIR" study with its lead candidate PQ912, the first in class and first in indication QC-inhibitor. In a preceding Phase 1 study with healthy young and elderly volunteers PQ912 was shown to be safe and well tolerated and revealed high QC-inhibition.
The phase 2a study is a randomized, double-blind multi-center study which plans to enrol a total of 110 patients with early stage Alzheimer's disease. Led by internationally renowned experts in AD in six European countries at about 20 sites, the primary endpoint of the trial is the safety and tolerability of PQ912 compared with placebo over a three-month treatment period. Additionally, a set of exploratory read-outs comprising cognitive tests, functional assessments by EEG and functional MRI and new molecular biomarkers in CSF will be used to evaluate the compound's effect on the pathology of the disease. First data of the SAPHIR study are expected mid-2016.
In March 2015, the first patient was enrolled in the phase 2a study at the Alzheimer Center, VU Medical Center (VUmc), Amsterdam.
PBD-C06
PBD-C06 is a monoclonal antibody, currently in preclinical stage. PBD-C06 targets pGlu-Abeta, aiming to selectively clear the brain of pGlu-Abeta while leaving non-toxic forms of Abeta untouched. PBD C06 has been successfully humanized and also de-immunized to avoid detection by the patient's endogenous immune system. Furthermore, the company has taken an important step by selecting a suitable IgG variant as development candidate and beefing up CMC development.
PQ1565
PQ1565 is a QC-inhibitor, currently in preclinical stage. The product candidate has shown attractive drug-like properties in preclinical studies. Regulatory toxicology studies are in preparation and production of this molecule is being scaled up.
CORPORATE REVIEW
Annual General Meeting 2015 (AGM 2015)
On 10 June 2015, Probiodrug held its AGM 2015. All resolutions proposed by the Company's Management and Supervisory Board were approved at the meeting including:
Adoption of the annual financial statements and the management report of Probiodrug AG for the financial year 2014
Ratification of the actions of the Executive and Supervisory Board members for financial year 2014
Appointment of the statutory auditor for the annual financial statements for the financial year 2015
Appointment of Ms Charlotte Lohmann and Mr Kees Been as new members of the Supervisory Board
Reelection of Dr Erich Platzer, Dr Dinnies von der Osten, Dr Jörg Neermann and Dr Olivier Litzka as member of the Supervisory Board
Remuneration of the Supervisory Board
Authorization to acquire treasury shares
Authorization to issue option bonds and/or convertible bonds
Resolution on the adjustment of the Stock Option Program 2014
Supervisory Board
Charlotte Lohmann and Kees Been were elected by the Annual General Meeting as new members of the Supervisory Board.
Ms Charlotte Lohmann has been General Counsel at MorphoSys AG in Martinsried/Munich since May 2012. Prior to this, she spent eleven years at Wilex AG in Munich, her last position as Senior Vice President Legal Affairs & Human Resources.
Mr Kees Been has over 20 years' experience in the biotech/pharma industry as the current CEO of Lysosomal Therapeutics, the former President/CEO of EnVivo Pharmaceuticals, CEO of Bionaut Pharmaceuticals, Senior Vice President of Business Development at Biogen and Head of Biogen's Oncology Business Unit.
Dr Erich Platzer, Dr Dinnies von der Osten, Dr Jörg Neermann and Dr Olivier Litzka were reelected as member of the Supervisory Board, with Dr Platzer being appointed as chairman and Dr von der Osten being appointed as vice-chairman.
OUTLOOK 2015
The mid-term focus of Probiodrug's business activities can be summarised as follows:
Further preclinical and clinical testing of the development candidate PQ912, in particular execution of the first patient study in a Phase 2a trial in 2015/ 2016 and the evaluation and design of a longer term treatment either as an extension of the SAPHIR study – or a separate study.
Securing further supporting data and intellectual property protection for the therapeutic concept of QC inhibition as a novel approach for the treatment of Alzheimer's disease and other diseases.
Further progression of the anti pGlu-Abeta specific anti-body (PBD-CO6) as well as of PQ1565, an additional small molecule QC inhibitor.
Progressing preclinical studies to evaluate the potential of Probiodrug's medical candidates in combinations and in other indications.
FINANCIAL STATEMENTS January to June 2015
Probiodrug has finalized its financial statements for the first six months 2015 according to German GAAP ("HGB") and IFRS. The auditor KPMG has reviewed the IFRS statements. The reports are available on the company website  (https://www.vivoryon.com/investors/reports-and-presentations/).
Financial calendar 2015
19 November 2015 Interim Management Statement Q3 2015
###
For more information please contact:
Probiodrug
Dr Konrad Glund, CEO,
Email: contact@probiodrug.de
Hume Brophy
Mary Clark, Supriya Mathur, Alexia Faure
Tel: +44 203440 5653
Email: probiodrug@humebrophy.com">probiodrug@humebrophy.com
Notes to Editors:
About Probiodrug AG
Headquartered in Halle, Germany, Probiodrug AG is a biopharmaceutical company focused on the development of new therapeutic products for the treatment of Alzheimer's disease.
Founded in 1997, the company successfully developed a novel therapeutic concept for diabetes – the DP4 inhibitors – which provided the basis for a novel class of antidiabetics – the gliptins. Its core capabilities are based on its long-standing expertise in the elucidation of the structure and function of enzymes involved in the modification of proteins and peptides, which play a central role in pathological conditions.
Today Probiodrug's aim is to become a leading company in the development of Alzheimer's disease treatments and to thereby provide a better life for Alzheimer's disease patients. It has identified a new therapeutic concept linked to disease initiation and progression. The development approaches are targeting pyroglutamate-Abeta (pGlu-Abeta) as a therapeutic strategy to fight Alzheimer's disease. The Company has medical use and composition of matter patents related to the inhibition of Glutaminyl Cyclase (QC) and anti-pGlu-Abeta- specific monoclonal antibodies, providing it, in the Company's view, with a leading position in this field of research. www.probiodrug.de
About Alzheimer's disease
Alzheimer's disease is a neurological disorder, which is the most common form of dementia, and ultimately leads to death. Because Alzheimer's disease cannot be cured and is degenerative, the affected patients must increasingly rely on others for assistance. Today, 44 million people worldwide currently live with the condition and this number is expected to almost double by 2030 and to more than triple by 2050 to over 132 million. Alzheimer's also has an estimated, global societal cost of over $600 billion (World Alzheimer Report 2014).
Forward Looking Statements
Information set forth in this press release contains forward-looking statements, which involve a number of risks and uncertainties. The forward-looking statements contained herein represent the judgment of Probiodrug AG as of the date of this press release. Such forward-looking statements are neither promises nor guarantees, but are subject to a variety of risks and uncertainties, many of which are beyond our control, and which could cause actual results to differ materially from those contemplated in these forward-looking statements. We expressly disclaim any obligation or undertaking to release publicly any updates or revisions to any such statements to reflect any change in our expectations or any change in events, conditions or circumstances on which any such statement is based.