Our current pipeline focuses on small molecule inhibitors for enzymes of the Glutaminyl cyclase family and has therapeutic potential in Alzheimer's disease and a broad spectrum of cancer indications.
Impact of COVID-19 currently under review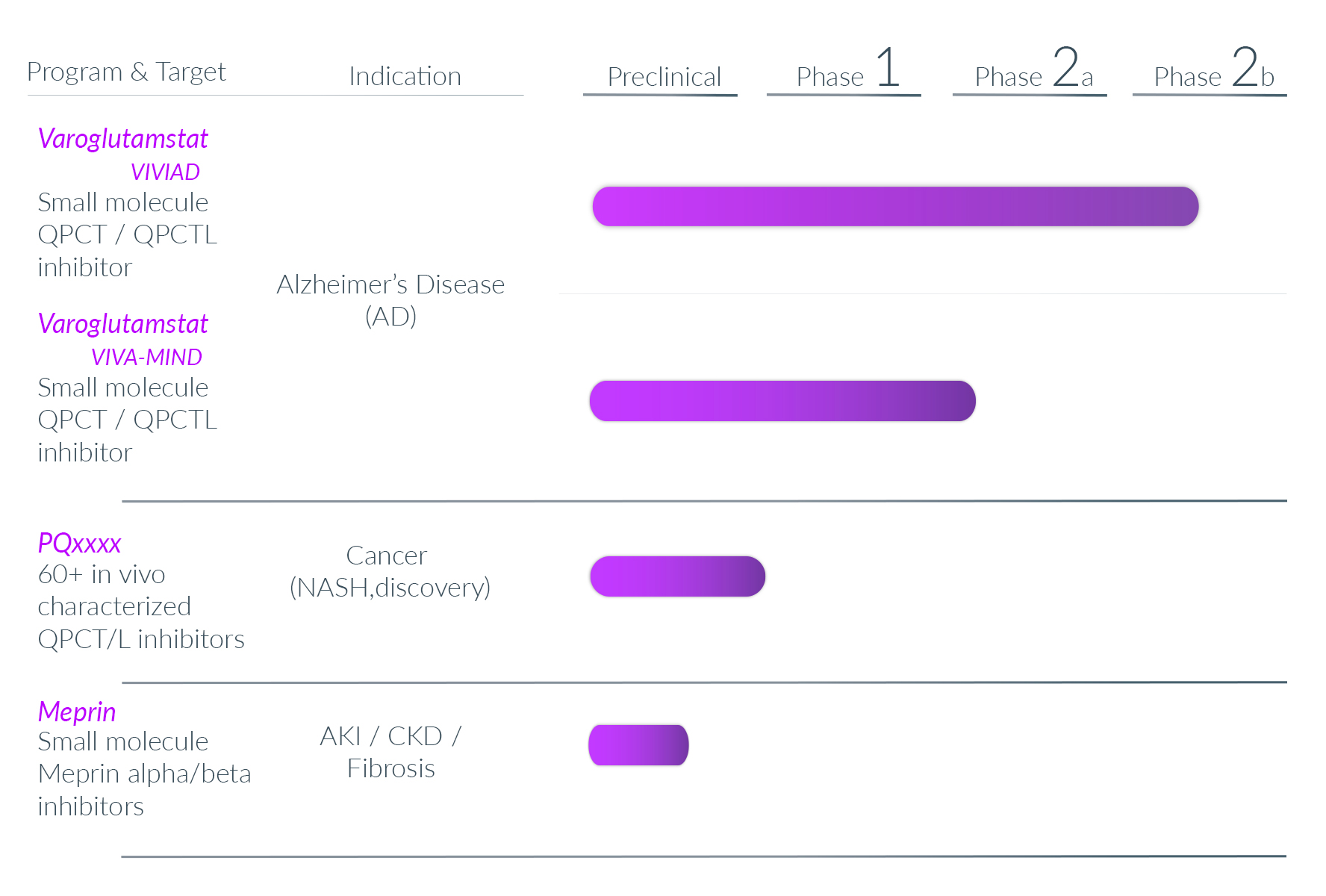 Varoglutamstat (PQ912) in cancer
Varoglutamstat does not only inhibit the enzymatic function of QC but also of its closely related homolog enzyme isoQC (QPCTL) – an enzyme that has been shown to be a crucial regulator of the CD47-SIRPα myeloid immune checkpoint. Based on the available clinical Phase 1 data Vivoryon currently selects development collaborations to advance Varoglutamstat into a clinical Phase 1 combination study together with a therapeutic antibody in cancer.
PQ1565 in cancer
PQ1565 is a second-generation highly potent small molecule inhibitor of Glutaminyl cyclases QC and iso QC. As a pre-clinical stage drug candidate, the molecule has advanced activity/tox, PK/PD features and has shown a favorable in vivo tox profile in rodents and non-rodents. PQ1565 displays excellent bioavailability and shows a high systemic exposure. It also is effective in cellular models for cancer and inflammatory models in vivo.
VY-family
Meprin proteases are involved in pathologic processes in diseases including fibrosis, AD and cancer. Currently in pre-clinical stage, our focus is on the development of meprin protease inhibitors to treat acute kidney injury (AKI) and fibrosis. While we have a broad portfolio of small molecule compounds our current lead molecule achieved first in-vivo proof of principle in an AKI mouse model.
PQ-family
In over 15 years of research on Glutaminyl cyclase Inhibitors we have discovered and patented a broad set of highly active small molecule Glutaminyl cyclase inhibitors and forwarded them into various preclinical development stages. Currently we are exploring opportunities to progress these molecules as quickly and diligent as possible into pharmaceutical and clinical development.